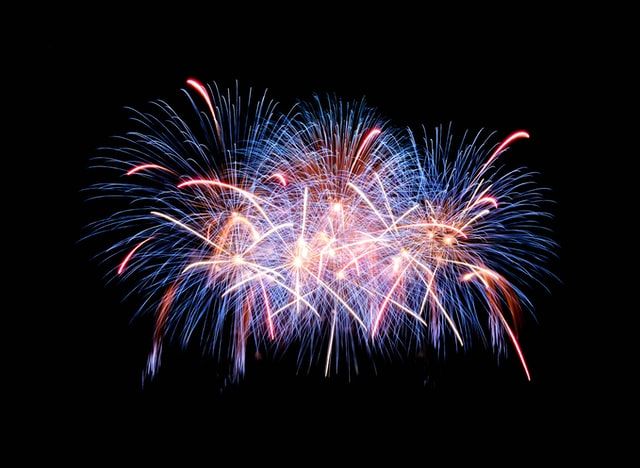 Firework Safety: Don't Become a Statistic

I bet if you asked people what they like best about July 4, they would say the fireworks. Beautiful explosions of crackling light across the pitch-black sky—what's not to love? But don't let the beauty fool you: launching fireworks is extremely dangerous, and many precautions must be followed to prevent injury. 
Launching fireworks is so dangerous that federal and state laws are in place to help reduce the chance of getting hurt through regulations and licensure. 
First, let's look at some stats about the number of firework accidents. 
A U.S. Consumer Product Safety Commission analysis found that 18 people died in non-occupational fireworks incidents in the United States in 2020, an increase of 12 deaths recorded in 2019. Between 2005 and 2020, there were 136 deaths from fireworks misuse or 8.5 deaths on average each year.

The report states that 15,600 people were treated in U.S. emergency rooms due to non-occupational fireworks injuries in the U.S. last year compared to around 10,000 in 2019. 
66 percent of all fireworks injuries in 2020 occurred around the Fourth of July period, documented between June 21 and July 21. The main culprits were firecrackers and sparklers.

During that time frame, hands/fingers accounted for the highest proportion of body part injuries at 30 percent, followed by the head, face, or ear at 22 percent while eyes came third with 15 percent. In terms of the type of injury, burns were the most frequent diagnosis by far at 44 percent, while contusions/lacerations and fractures/sprains were also relatively common. Of those injured, the majority were men and between the ages of 25 and 44. Young adults between the ages of 20 and 24 were the most likely to be injured. 
Children ages 10–14 had the highest rate of fireworks injury, with more than one-third (36 percent) of the victims of fireworks injuries under age 15.

In 2019, there were 91 emergency department visits caused by fireworks.  Males accounted for 70 percent of those visits. One quarter (25 percent) were children (ages 0–17). Additionally, there were 12 total hospitalizations due to firework-related injuries in 2019. In 2018, there were 91 emergency department visits caused by fireworks.  Males accounted for 74 percent of those visits. Almost one quarter (23 percent) were children (ages 0–17). Additionally, 16 hospitalizations were due to firework-related injuries in 2018. 
Federal and State Fireworks Laws and Regulations 
To help prevent injuries from fireworks-related incidents, the U.S. Consumer Product Safety Commission (CPSC) enforces federal laws that prohibit the sale of the most dangerous types of fireworks to consumers. 
Fireworks Banned Under Federal Law: 
M-80s;

 

Cherry bombs;

 

Any firecrackers containing more than 50 milligrams (about 1/16th of the weight of a typical aspirin tablet) of powder;

 

Large, reloadable shells;

 
Aerial bombs;

 

Mail order kits for building fireworks

 
In March of 1997, a new CPSC standard that bans large, unstable, multiple-tube fireworks took effect. This standard is designed to eliminate the deadly tip-over hazard that has killed two innocent bystanders, including a 3-year-old-boy, at family celebrations. 
Today, some or all consumer fireworks are legal for purchase in 46 states, Washington, D.C., and Puerto Rico. Ohio, Vermont, and Illinois only allow the purchase of sparklers and other novelty-type fireworks, and Massachusetts does not permit the sale of fireworks at all. 
Fireworks Safety Tips: If You Choose To Use Legal Fireworks 
If consumer fireworks are legal to buy where you live and you choose to use them, be sure to follow the following safety tips: 
Never allow young children to handle fireworks.

 

Older children should use them only under close adult supervision.

 

Never use fireworks while impaired by drugs or alcohol.

 

Anyone using fireworks or standing nearby should wear protective eyewear.

 
Never hold lighted fireworks in your hands.

 

Never light them indoors.

 

Only use them away from people, houses, and flammable material.

 

Never point or throw fireworks at another person.

 

Only light one device at a time and maintain a safe distance after lighting.

 
Never ignite devices in a container.

 

Do not try to relight or handle malfunctioning fireworks.

 

Soak both spent and unused fireworks in water for a few hours before discarding.

 

Keep a bucket of water nearby to fully extinguish fireworks that don't go off or in case of fire.

 

Never use illegal fireworks.

 
Stay Safe with Fireworks 
The laws and regulations on firework safety discussed above are designed to help keep you safe. Also, if you follow the safety tips, you'll be in good shape to enjoy your fireworks show. And you will reduce your chance of becoming a statistic. 
Research and materials for this article were compiled, written, and distributed on behalf of the National Public Health Information Coalition. The views and opinions expressed in this blog are those of the various authors and do not necessarily reflect the official policy or position of the National Public Health Information Coalition or its members. 
References: 
https://www.cpsc.gov/s3fs-public/2020-Fireworks-Annual-Report.pdf 
Chart: The Dark Side Of Independence Day | Statista 
Firework-Related Injuries, Deaths Were Up Last Year | Nebraska Public Media 
Fireworks Data and Statistics | Wisconsin Department of Health Services 
Fireworks Safety Tips - National Safety Council (nsc.org) 
Illegal Explosives | Bureau of Alcohol, Tobacco, Firearms and Explosives (atf.gov)